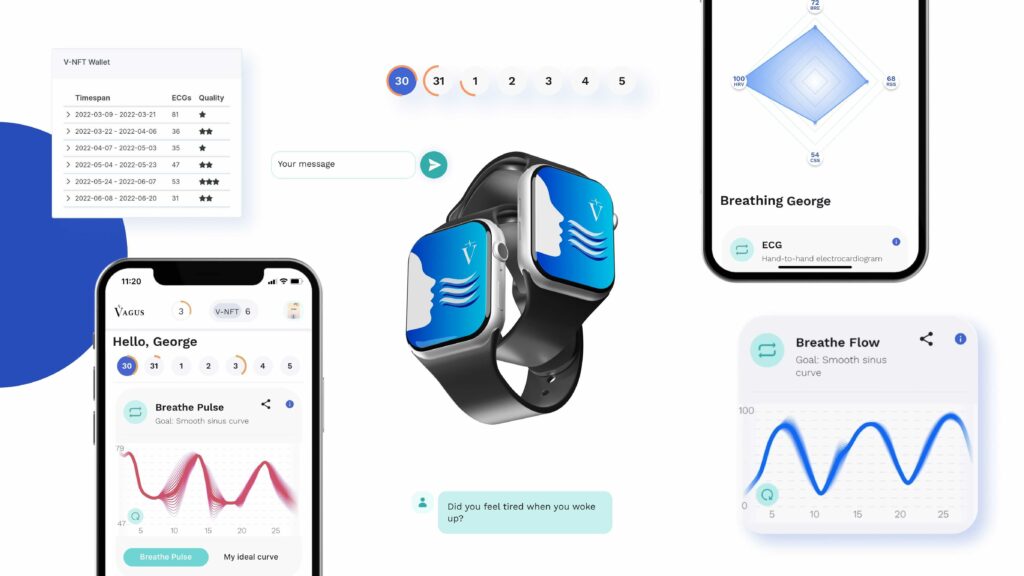 BREATHE FLOW
8 years of Vagus nerve research health findings with a 30
seconds ECG test – FREE on App- and Play store.
Available now
on Apple-, Samsung Galaxy 4 & 5 and Withings smartwatches.
3 deep breaths to get intelligent health advice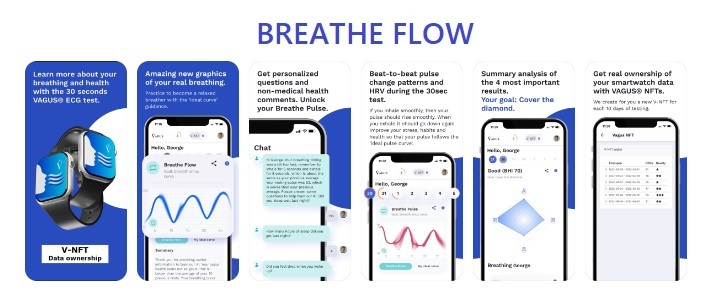 After developing our first vagus nerve stimulation prototype in 2014, we quickly realized that we needed better data and a new type of 'before and after' test for our neurofeedback. Our founder, Gustaf Kranck, invented one – the VAGUS® ECG test for hand-to-hand ECG. Now it is available for everyone who owns an Apple- or Withings ECG-enabled Watch .
There is broad consensus from scientists that the vagus nerve is our most important nerve for immunity and health problems such as stress, anxiety, inflammations and depression. By monitoring the vagus nerve, users can adjust their lifestyles to achieve better health and higher 'life quality'. To give the necessary advice and information to our users, we process complex vagus nerve data with artificial intelligence (AI).Algorithms have to be versatile, thorough and personalized.
How to do the test?
By doing the VAGUS® ECG test with controlled breathing (5 sec inhale and 5 sec exhale), our unique analysis calculates exactly how the person is breathing and provides easy-to-understand feedback. More than half of our current 8000 users have problems doing proper diaphragmatic breathing. By using our tests and feedback, almost everybody improved their breathing within weeks of starting daily testing. All data is calculated in the cloud and saved there if the user later wants to start using our 'Nerve Explorer' cloud service to monitor longer-term changes – or subscribe to our breathing coaching partners. If the user approves, breathing coaches can get real-time access to the test results to better help their clients.
With the Breathe Flow app, we also introduce user ownership to smartwatch data. This is done with the VAGUS NFT.
Want to know more?
Sign up for our blogposts and updates