Rewards and data ownership with the VAGUS wallet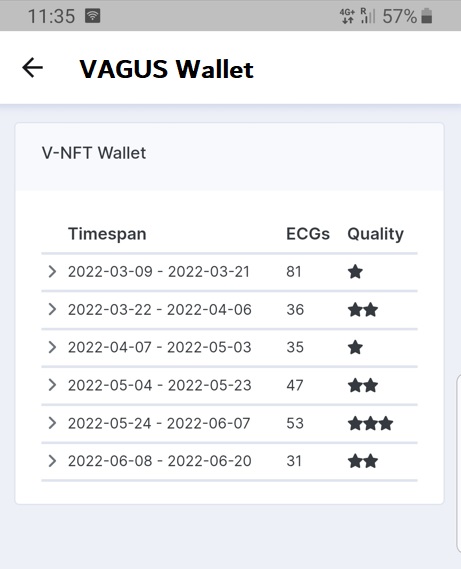 What our users say:
This is one of the most cutting edge ways I've ever seen to know how your nervous system is really doing – far more promise than even Heart Rate Variability, which was the gold standard.          
– Dave Asprey, 'Father of biohacking', Founder of Bulletproof and author of New York Times bestseller The Bulletproof Diet
I was able to get the watch setup very easily yesterday and have been able to download the EDF file. Always refreshing to get a device that just works, and as a bonus makes access to data so simple.   
– Jonathan Francey, B-Secur, Belfast, UK
The Vagus ECG watch is an easy-to-use, indispensable tool for gaining insights into how our body is responding to physical, emotional, and environmental stressors life throws at us.
– Bob Troia, 'quantifiedbob', New York, USA
I have been using a Garmin Firstbeat watch to guide my fitness level for about 10 years now. Now with your watch and the feedback it provides I see that I can be fit but not as healthy as it is possible. I made the choice to go with your watch for my health and fitness. I just want to thank you and your team for the great work. 👍🙏😊 
–Jean-Marc Verreault, Ontario, Canada
The Vagus watch is my newest gadget and I am impressed about the accuracy of the ECG-measurements.  As a quantified-self person I also use Garmin, Lief, Firstbeat, Oura, Dreem and Emfit QS.    The Vagus ECG Test and its heart/breathing sync analysis has given me new insights about my attention control.   It has been a part of my daily routine since its launch in March 2020 and I enjoy it very much. 
– Magnus Lönnqvist, Business Development Manager at Hintsa Performance, Helsinki, Finland
This is truly a wonderful device which is already life changing.  I'm so pleased I have it.  
– Jennifer Kistler, Occupational Therapist, Pennsylvania, USA
I think the watch will be a helpful instrument to verify and discover improved vagus function in response to conceivably vagus-boosting activities.  
– Ulf Andersson, Professor, Karolinska Institute, Stockholm, Sweden
The Vagus ECG Test is a true innovation in the field of digital health and data.  Traditional Heart Rate Variability (HRV) is very limited compared to this test.  It will become a driver in the digital data space for home health monitoring.  I love it, thanks.   – Tony Fish, Author & speaker, London, UK
Sign up for our blogposts and updates
For Apple- and Withings ECG smartwatches