Our Long COVID study at Karolinska Institut.
Karolinska Institutet News, 4th of June 2021:
Karolinska Institut in Stockholm together with Vagus Health Ltd are launching a study for Long COVID triage and at-home monitoring.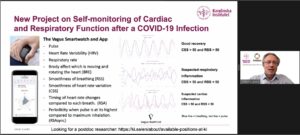 The goal of the study is to determine if the VAGUS® ECG data and analysis can be used as an affordable diagnostics triage method for healthcare providers worldwide to provide faster and more accurate Long COVID healthcare.
According to the study hypothesis the test protocol and analysis is able to reliably determine the most likely cause for the majority of Long COVID symptoms. The test is carried out with an smartwatch ECG recording while the patients are performing controlled breathing. This process can detect subtle cardiac/respiratory changes which are known to occur due to Long COVID. The primary aim is to establish whether cardiac- or respiratory inflammations are the most likely causes for participants Long COVID symptoms. The secondary targets are detection of neural inflammations, autoimmune diseases and mental issues such as depression, anxiety or chronic stress.
The study is carried out with data from participants own Apple Watches (4, 5 or 6) or Vagus hand-to-hand ECG smartwatches and its 'Vagus ECG' test. The study will also collect some other phone/watch health data such as activity, continous pulse and sleep. To participate one needs to have a ECG smartwatch (Apple Watch with ECG or the Vagus Watch).
To pre-register, please email us to info(at)vagus.co. For those buying a watch, please write Long COVID as reference in the order.
The participating persons commit to doing three 30 or 90 seconds 'Vagus ECG Tests' per day. One in the morning after getting up from bed, one around noon before meal and one in the evening before going to bed. One test only lasts 30 or 90 seconds and the user needs to sit with hands resting on a table (or own legs) and follow the instructions displayed on the watch. After each test the participants fill in a short 'state of health and symptoms' note in the app and reporting for instance body temperature measurements. For non-clinical study participants, the patients self-download medical statements such as Covid-19 tests, blood tests or medical scan reports. People in the same houshold can use the same watch as long as they use a separate smartphone, Vagus App and user account.
The study data collection period is 3 months.
All data collection, storage, processing and sharing by participants in this study is GDPR compliant.
Karolinska: Study supervisor: Dr. Johan Lundin, Professor at Karolinska Institutet and Research Director at FIMM https://www.researchgate.net/profile/Johan_Lundin.
Vagus Health Data Collection and -reporting team members: Gustaf Kranck, CEO and Founder, Vagus Health Ltd https://www.linkedin.com/in/gustafkranck/, Mattias Nordström, CTO and co-founder, Vagus Health Ltd https://www.linkedin.com/in/mattias-nordstr%C3%B6m-3987443/, Johan Sellström, CEO, Carechain.io, Sweden https://www.linkedin.com/in/johansellstrom/, Dr Fintan Nagle, Data Scientist, UCL, London UK https://www.ucl.ac.uk/~ucbpfsn/about.html,
We hope for a large and diverse global participants.
Gustaf Kranck
CEO, Vagus Health Ltd.
(Last updated June 4th 2021)
Our Covid-19 detection hypothesis paper – press here to access.
Open data licensing terms: https://creativecommons.org/licenses/by-nc/4.0/
Medical disclaimer: The Vagus ECG smartwatch, Apple Watch or the Vagus ECG Test analytics are not approved medical devices or diagnostics tools. They analytics and reported conclusions are in beta-testing phase. There are no published medical trials to yet confirm the study's hypotheses. One aim for this study is to obtain data to confirm the hypothesis. The analytics or risk assessments presented by the VAGUS ECG app or in the user cloud interface should not be used as medical diagnostics. They should not be used to decide alternations or additions to medical treatments without consulting a medical doctor or certified professional.