Vagus research that turned
into an app for Apple Watch
After developing our first vagus stimulation prototype in 2014, we quickly realized that we needed better data and a new type of 'before and after' measurement for our neurofeedback. 

There is broad consensus from scientists that the vagus nerve is our most important nerve for immunity and health problems such as stress, anxiety and depression.  
We believe the right way to solve this is for the algorithms to be more versatile & thorough. You only need to do the 30 sec. test three times per day to get unique data on your health.  We calculate the precise correlation between breathing and pulse since it is critically important in establishing vagal tone. Within seconds our cloud intelligence will display the results on our iOS 'Vagus ECG' App.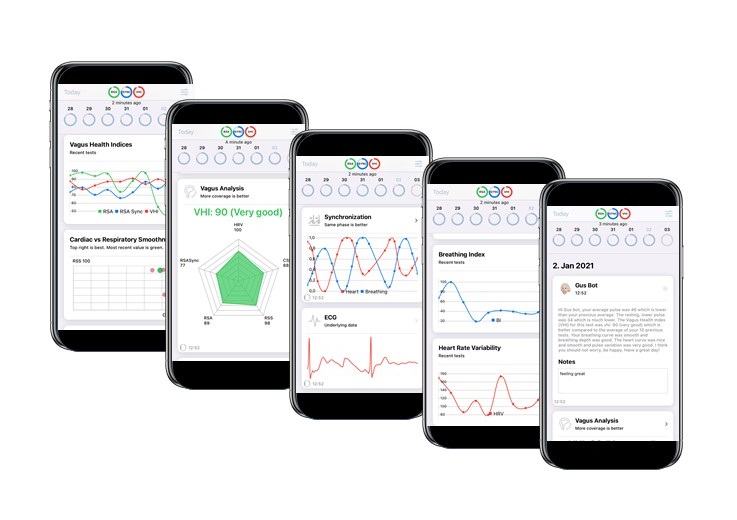 The core of our research has been in understanding how the vagus nerve synchronizes the heart and breathing. By doing the Vagus ECG test with controlled breathing (5 sec inhale and 5 sec exhale), our unique analysis calculates exactly how the person is breathing and how well the heart beats are correlated with each breath. This oxygenation process is determined by the vagus nerve.
The Vagus ECG Test and our analytics is what makes us unique (pat. pend.

The Vagus ECG app is subscription based, charged quarterly:
US:  6.66 $/month (19.99$/3m), UK: 6.50£/month (19.49£/3m), EU: 7.33€/month (21.99€/3m), Japan: 700¥/month (2100¥/3m)
We built it for ourselves.  We track our health by doing at least three Vagus ECG Tests per day – morning, noon and evening.  We think you will too.  
More facts and science found on our Science page. 
Sign up for our blogposts and updates